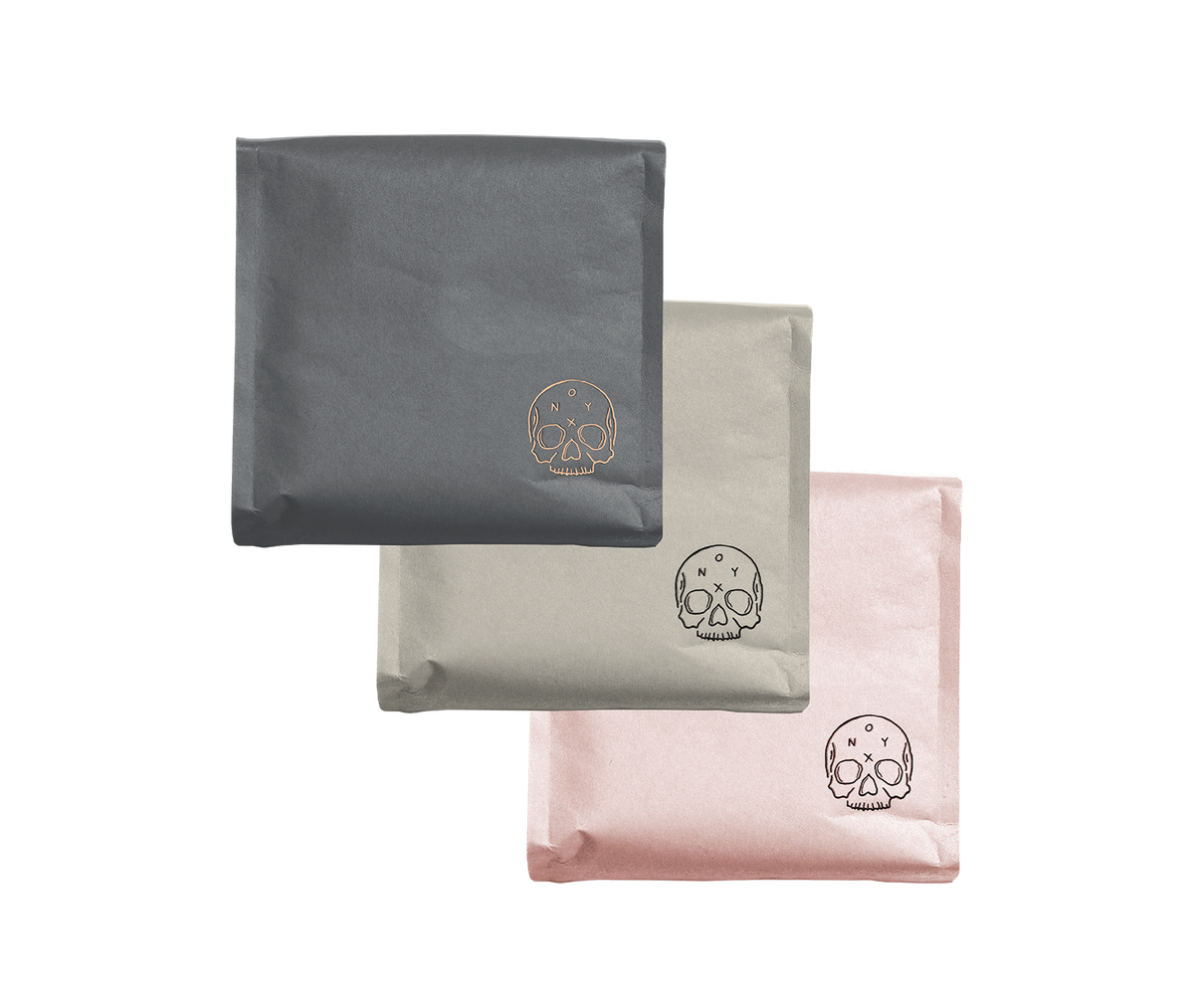 Colombia Competition Series Box Set
In October of 2021, our very own Andrea Allen and Elika Liftee competed in the World Coffee Competition in Milan, Italy. Andrea took home 2nd in the World Barista Championship and Elika took home third in the World Brewer's Cup Championship. Get a taste of the competition with this incredible set featuring three different 4 oz bags of coffee used by our competitors in their award winning routines. This set includes the following coffees:

Colombia Gesha Cerro Azul X.O.
Colombia Inmaculada Eugenioides
Colombia Las Margaritas Gesha

Traditional | ● ● ● ● ● ● ● ● | Modern
Natural & Raised Bed Dried.
THIS SET IS A PRE-ORDER ONLY. THIS SET WILL ROAST & SHIP ON THURSDAY, DEC. 16TH. 
STORY
It was a long journey to arrive at the World Coffee Championships in Milan, Italy. A global pandemic struck directly following the United States Coffee Championships, forcing all the preparation we may have planned to the furthest periphery. In the following year, specialty coffee faced one of its largest challenges, in which a hospitality industry had to pivot away from traditional hospitality. Throughout this harrowing time, all thoughts of competition were forgotten for over a year. Just three short months before the event was to take place, World Coffee Events announced that they would proceed with hosting the World Barista Championship as well as the World Brewers Cup at HOST in Milan. After the announcement, many phone calls were placed, as we hastily began to cup through the coffees we'd use in both Andrea and Elika's presentation. Below is a short account of how we selected these coffees, and how they were produced. 
EUGENIOIDES 
Just one cup of this coffee was enough to inspire a journey to South America to discover this species for ourselves. Legends and speculation buzz about this coffee. For starters, this is not even the same species as most of the coffee encountered on the market today. Coffea Eugenioides is considered to be one of the parents of modern Arabica coffee. Eugenioides is a very difficult coffee to grow, yielding only 150 grams per tree of unmilled coffee. It contains about half the caffeine of Arabica coffee, which causes the coffee to have almost no perceived bitterness. The defining characteristic of this coffee is its wild, almost unbelievable sweetness. It has a compelling lack of citric acidity that we are so used to in a coffee, presenting a whole new perspective on what coffee can be. Interestingly specialty coffee has honed in on just one species, Coffea Arabica, as the species that has become synonymous with specialty coffee. Over 100 species of Coffea have been described, and Eugenioides is hailed as a progenitor of modern-day Arabica. 

Throughout the '19 and '20 competition year, we used this coffee onstage as an integral part of owner Andrea Allen's winning barista competition routine, and we knew that it would play an integral part of her world routine. Since that win, our close friend Fernando at Inmaculada broached the idea of dialing in the processing method for this coffee over the next harvest. Fernando worked with the entire team at Inmaculada, settling on an 8 day 'carbonic maceration' fermentation. This is a limited oxygen fermentation where the cherries are placed in a tank, allowing the microbes to do the work of breaking down the sugars of the coffee cherries into a juice. The temperature is regulated throughout the fermentation in order to limit the activity, otherwise, the resulting cup will be too fruit-forward and will taste of vinegar. The results of that hard work are evident in the cup, this year's harvest jumped over a full point in quality. What was a clear cereal note in the cup before has shifted into more vibrant fruit notes. Strawberry and guava are now more prevalent up front, which fades into the more familiar sugary sweetness that this species is known for. C. eugenioides comprised half of Andrea's espresso course, as well as the entirety of her milk course. Eugenioides lended a dynamic and complex sweetness when paired with her GXO Gesha from Cerro Azul, and when it was layered with her milk, it produced the sweetest and most enjoyable milk beverage any of us have ever tasted. 
INMACULADA COFFEE FARMS
In 2010, the Holguin family began their coffee journey in Valle del Cauca, Colombia. They have a long history of producing both palm oil trees and sugar cane in Nariño. They started with 5.12 hectares, and nine years later, they hold 50 hectares that is divided up into four farms, all of which have a unique climate. Inmaculada Coffee Farms is divided up into El Jardin, Las Nubes, Monserrat, and Inmaculada Concepcion. Inmaculada's focus on growing exotic varieties and processing them to highlight their terroir is inspiring. Their goal is to "produce the most extraordinary coffees possible, regardless of risk or costs." Most of the varieties they grow are incredibly low yielding and difficult to grow, proving their commitment to their goal. Within the grounds of their Inmaculada Concepcion farm, there is an old Catholic school that has been turned into their dry mill and cupping lab, complete with a Ferris wheel style drying bed on the roof. After cupping in their classroom-converted-to cupping lab, we zeroed in on four varieties that highlight what Inmaculada is accomplishing with all their hard work. A hectare is a unit of measure widely used in coffee-producing regions, one hectare is about 2.4 acres.

GRANJA LA ESPERANZA
Cerro Azul was one of the first farms in Colombia to cultivate the famed Gesha variety. Now it is nearly commonplace, as farmers are vying for higher cup scores and the high prices they fetch, but Café Granja La Esperanza was one of the first to lead the charge. Their story begins in Valle de Cauca when in 1945, a man named Juan Antonio Herrera decided to plant more varieties alongside his Typica. Much like today, producing coffee was a family affair, and Juan Antonio and his eleven children focused on producing coffee on the Potosí farm. Two children, in particular, had a keen focus on coffee production and decided to take the coffee in a new direction. The two farms of Potosí and the newly acquired La Esperanza were converted to organic production in the late '90s.

In 2007, Rigoberto had the opportunity to manage a farm in the famed coffee region of Boquete, Panama. The Gesha variety from his farm La Carleida won the Best of Panama a year later. Don Rigoberto made the choice to bring Gesha seed back from Panama to plant at La Esperanza, ushering in a new chapter for Colombian coffee production. Now Café Granja operates five distinct farms, Cerro Azul, Las Margaritas, La Esperanza, Pososí, and Hawaii. The farm of Cerro Azul is the highest in elevation, and we've found that it produces some of the best Geshas in the world. We have selected these coffees for competition year after year. With the absence of the competition season this year, we found ourselves with access to more offers from our friends at Granja. After cupping through a table of some incredibly interesting offers, we honed in on three varieties grown throughout their five farms. 
CERRO AZUL GESHA NATURAL
The Cerro Azul farm regularly produces some of the top lots that we purchase from Granja la Esperanza. With elevation soaring up to 2,000 meters above sea level, the Gesha from this farm is easily one of the most complex coffees we purchase. The terroir lends a hand in the complex nature of this coffee, but with little need as the seed stock is from a long line of green-tipped Panamanian Gesha plants. (Much coveted throughout the world.) Layered guava, strawberry, and native Colombian fruit notes pair with a bright and almost sparkling acidity that is most pronounced on the cupping table. When brewed, this coffee exudes delicate florals paired with complex fruits and a heavy and pleasantly mouth-coating texture.
BREW GUIDES
Colombia Gesha Cerro Azul X.O.
Colombia Inmaculada Eugenioides
Colombia Las Margaritas Gesha


TRANSPARENCY
Green Cost:
The price listed below is the average price paid across three coffees. We paid both Inmacualda and Granja for the total of these coffees, plus transport fees, at the time of contract. All airfreight fees have been listed within the Transportation section.

$57.10
Transportation:
The cost listed below is the cost incurred during airfreight from Valle de Cauca, Colombia to our roastery in Arkansas. The frequency and nature of these shipments often necessitate airfreight shipment of these special lots, due to the small size and long transit time of ocean freight. The cost has been averaged per pound shipped.
$1.83
Production:

$4.85
C-Market:
$1.86
Fair Trade:
$1.60
Lot Size:
25 kgs
Cup Score:

90+
Transparency Grade:

A+
$135.00