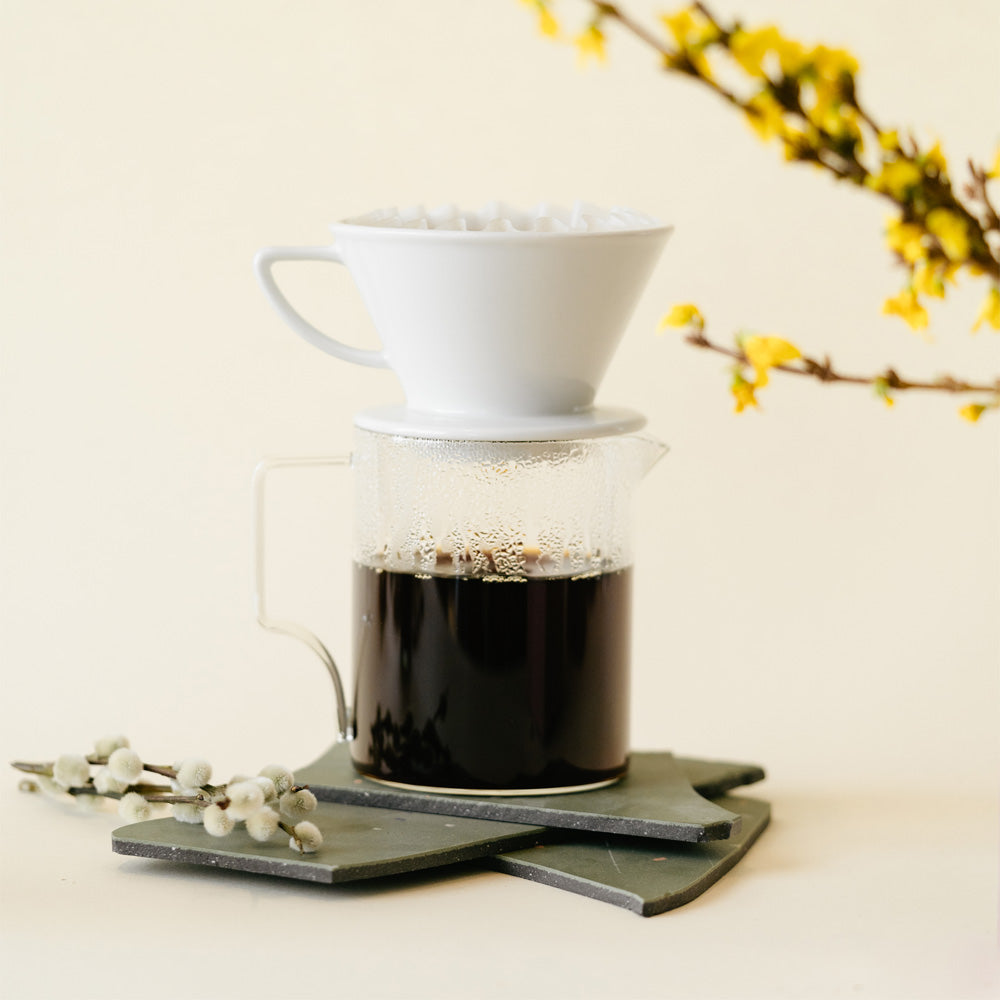 Onyx Coffee Academy: Pour Over Basics
2x US Brewers Cup Champion and World Brewers Cup Runner-up Elika Liftee will teach you to make pour-over coffee with the Origami Air S Dripper. This two-and-a-half-hour course will equip the enthusiast or curious to understand the theory and practical skills to prepare better coffee. With a focus on "pour-overs," we will explore the essentials of hand brewing and the variables that will impact the consistency and quality of coffee. 
Purchase tickets individually or as a bundle with a 10oz box of coffee to take home. Additionally, after the class, receive a code for 15% off the first order of your new Onyx subscription. Classes will take place in person at our HQ in Rogers, Arkansas.
Ticket Packages
-Single Ticket

-Class & Coffee: Class, 10oz Tropical Weather

-Class & Dripper: Class, Origami Air S Dripper

-Enthusiast Package: Class, 10oz Tropical Weather, Brewer's Logbook

-Starter Pack: Class, 10oz Tropical Weather, Origami Air S Dripper

-Basic Package: 10oz Tropical Weather, Origami Air S Dripper, Kalita Wave 185 Filters, Kalita Glass Server 500mL, Timemore Black Mirror Basic + Scale, Stagg Pour Over Kettle (Stovetop)

-Barista Package: Class, 10oz Tropical Weather, Origami Air S Dripper, Kalita Wave 185 Filters, Kalita Glass Server 500mL, Acaia Pearl Coffee Scale, Stagg EKG Kettle

-Pro Package: Class, 10oz Tropical Weather, Origami Air S Dripper, Kalita Wave 185 Filters, Kalita Glass Server 500mL, Fellow Tally Pro Studio Scale, Fellow Stagg EKG Pro Studio Kettle
CLASS SCHEDULE
Saturday, August 5th
09:00:00 - 11:00:00

Onyx Coffee Lab - Rogers HQ
101 E Walnut St.
Rogers, AR 72756
$55.00
Single Ticket Class & Coffee Class & Dripper Enthusiast Package Starter Pack Basic Package Barista Package Pro Package